Reveal 16 – Digital desktop magnifier with XY table
Reveal your vision and rediscover your world with the power of a digital desktop magnifier
The Reveal 16 is the perfect desktop CCTV magnifier for anyone living with sight loss or low vision who is looking for a comfortable reading and writing aid. This foldable video magnifier is ergonomically designed to make reading and writing enjoyable for long periods.
The 16-inch touchscreen offers crystal-crisp image quality. With its 10x live optical zoom camera, up to 45x digital magnification, and multiple viewing contrast options.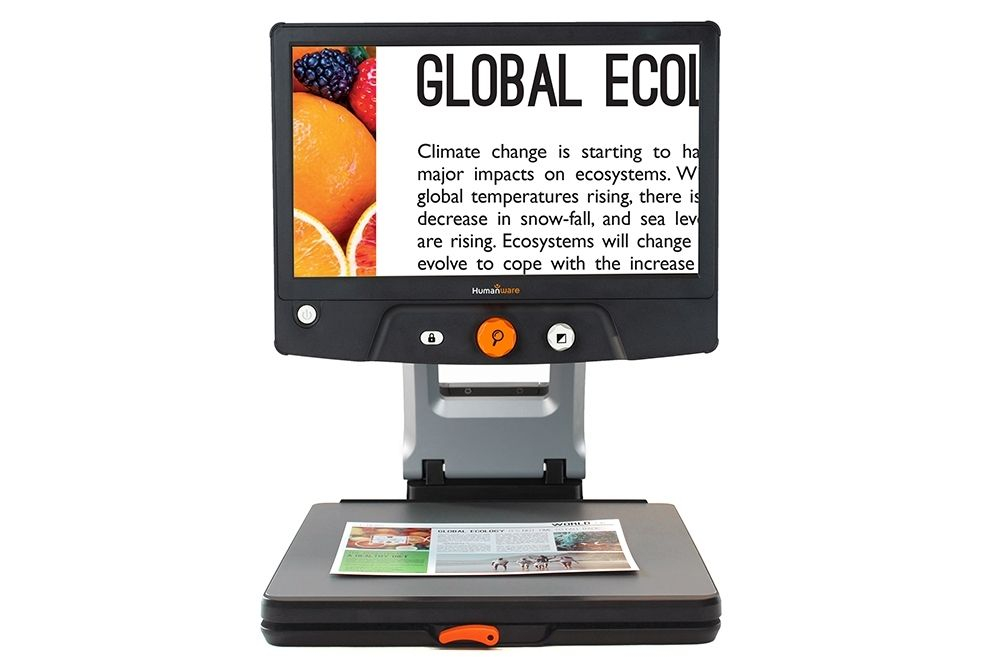 Contact us at
(+40) 729.099.260
Delivering an uncompromisingly superb image quality, Reveal 16 is the simplest-to-use, transportable, desktop magnifier available. Designed with 4 large, color-contrasted buttons and a user-friendly interface, it is suitable for elementary school students, seniors, or anyone in need of an easy-to-use, magnifying solution.
Featuring an adjustable 16-inch screen and a powerful camera, the Reveal 16 can meet all your needs. It displays a large visual field that makes your reading and writing experience enjoyable and effortless. You can also view distant objects, such as artwork, a whiteboard, or a beautiful outdoor landscape, by simply pointing the camera in the desired direction. When not in use, quickly fold and store the Reveal 16. It will be ready when you need it again!
1x – 10x optical magnification
1x – 45x digital magnification
Adjustable 16-inch HD Screen
Polarized LED lights
Large, contrasted control buttons
XY viewing table
Document overview option
Weight & Dimensions
Folded unit dimensions (w x d x h): 14.96 x 18.6 x 5.9 inch / 380 x 473 x 150mm
Open unit dimensions (w x d x h): 14.96 x 18.6 x 14.57 inch / 380 x 473 x 370mm
Unit weight: 18.74lbs / 8500g
Unit weight w/optional battery: 19.63lbs / 8904g
Braille displays

Audio Assistants

Braille Printers

Touch image printers

Tactile marking