Victor Reader Stratus12 M – Daisy and MP3 reader
A user-friendly audio player for structured and efficient playback navigation
Victor Reader Stratus M multi-media player gives you exceptional access to DAISY books, recorded books, music, and computer documents from more media sources than ever. The Stratus12 M model has a 12-key telephone-style pad ideal for highly structured reading navigation such as reference books and textbooks. User-friendly and accessible: Victor Reader Stratus M is an audio player for everyone!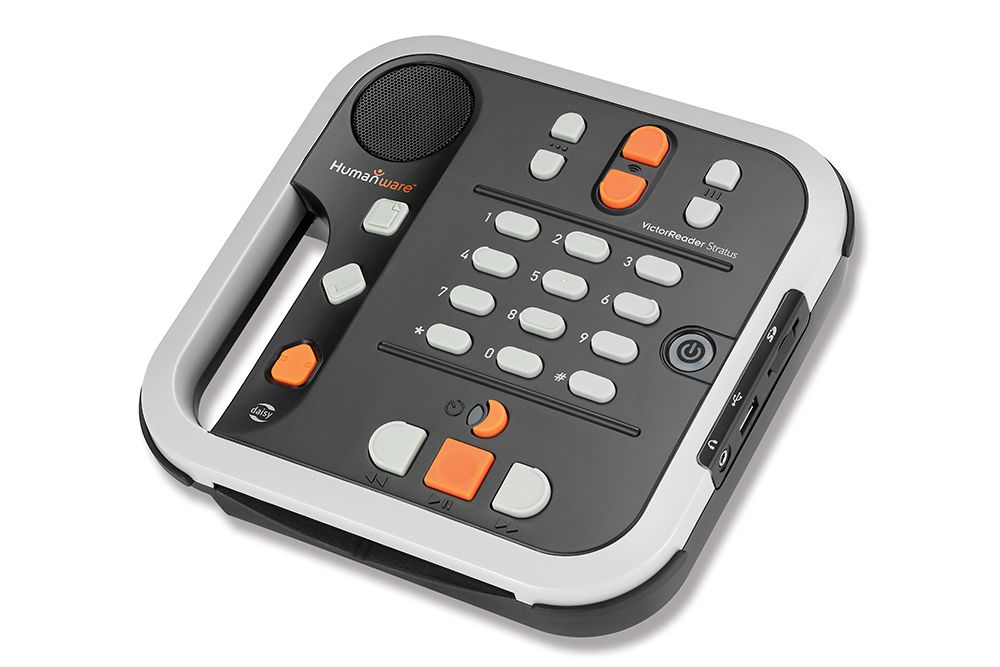 Contact us at
(+40) 729.099.260
Smaller and lighter on the outside yet smarter and better sounding on the inside—that's the Victor Reader Stratus M. Unlike the previous generation, voice reading is available from several types of media: CDs, SD cards, and USB flash drives. All models feature large, tactile, high-contrast keys, a built-in speaker and headphone jack, and self-voicing controls, making it simply the friendliest audio media player around.
Open up to a world of discoveries by listening to any computer text documents thanks to its built-in text-to-speech capability. The Victor Reader Stratus12 M includes a 12-key telephone style number pad for direct navigation functions. You can simply enter a page number to be directed to that page. Browse directly into sections of text documents, recorded DAISY books and MP3 files or automatically resume reading where you left off. The audiobook reader that boasts usability and simplicity—this is the Victor Reader Stratus that is right for you.
Large, tactile, high-contrast keys
Portable - Integrated carrying handle and rechargeable battery
Plays multimedia books and music from CDs, SD cards and USB flash drives
Easily navigate novels, magazines, newspapers, and text documents
Telephone-style number pad for navigation to specific pages in highly structured publications such as reference and text books
Removable keypad cover hides all but the most essential keys to simulate a traditional cassette player. Sold separately
Resume reading where you left off on each book you are reading
Weight & Dimensions
Dimensions: 22 x 21.6 x 4.8 cm (8.7 x 8.5 x 1.9 in.)
Weight: 0.95 kg (2.1 lbs.) with battery
Braille displays

Audio Assistants

Braille Printers

Touch image printers

Tactile marking