Victor Reader Stratus4 – Daisy and MP3 player
The simplest and friendliest audio media player
The Stratus4 player gives you exceptional access to DAISY, MP3 books and music on CDs. With simple press of arrow keys users can perform navigation functions such as jump to previous or next chapter, section, page, music track. The Stratus4 model is highly accessible and user-friendly.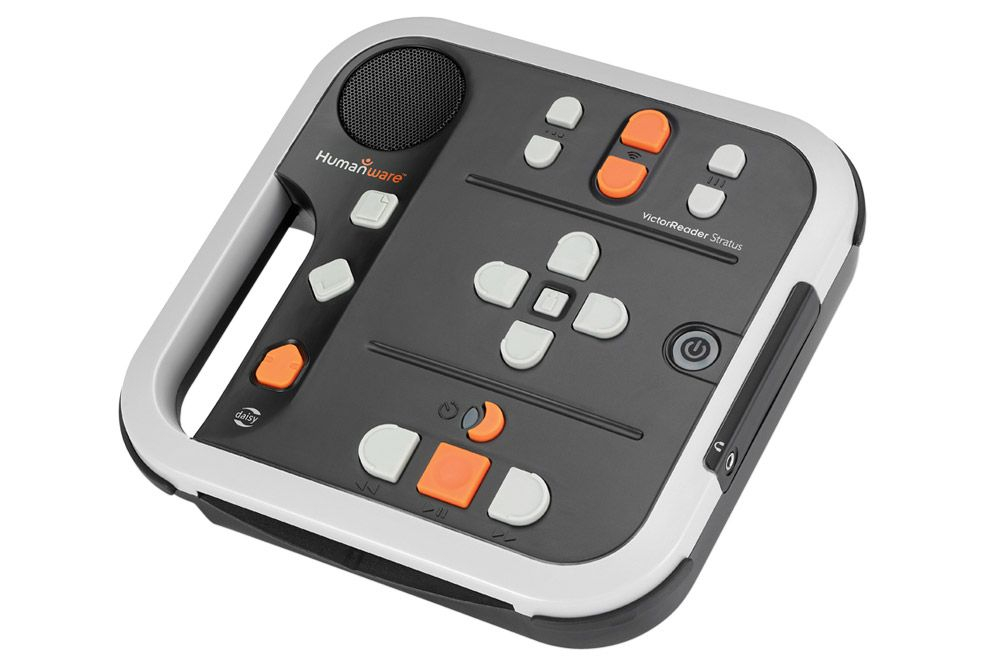 Contact us at
(+40) 729.099.260
The Victor Reader Stratus continues the legacy of HumanWare's 13-year history of developing simple, easy-to-use audio book players. The Victor Reader Stratus comes in a new look enclosure that is smaller and lighter on the outside yet smarter and better sounding on the inside. Unlike the previous generation, the Stratus plays multimedia books and music from CDs, SD cards and USB flash drives.
All Victor Reader Stratus models feature large, tactile, high-contrast keys, a built-in speaker and headphone jack, and self-voicing controls, making it simply the friendliest audio book player around.
You can take and operate your Victor Reader Stratus anywhere, using its rechargeable battery and integrated carrying handle.
Plays DAISY, Audio and MP3 CDs
Portable - Integrated carrying handle and rechargeable battery
Large, tactile, high-contrast keys
Variable speed - Increase playback speed to read more quickly
Sleep timer - A great way to enjoy reading before bed
Information key - Announces book info
Where am I key - Always know where you are in a book
Weight & Dimensions
Dimensions: 22 x 21.6 x 4.8 cm (8.7 x 8.5 x 1.9 in.)
Weight: 0.95 kg (2.1 lbs.) with battery
Braille displays

Audio Assistants

Braille Printers

Touch image printers

Tactile marking