Reveal 16i – Smart desktop magnifier with XY table
The intelligent video magnifier you need to stay connected
With Reveal 16i video magnifier, you can enjoy best-in-class image quality showcased on a large 16-inch touchscreen. With up to 10x optical zoom and up to 45x digital magnification, this electronic reading aid is ideal for anyone living with vision loss or low vision. This is the best smart magnifier for an uncompromised reading experience.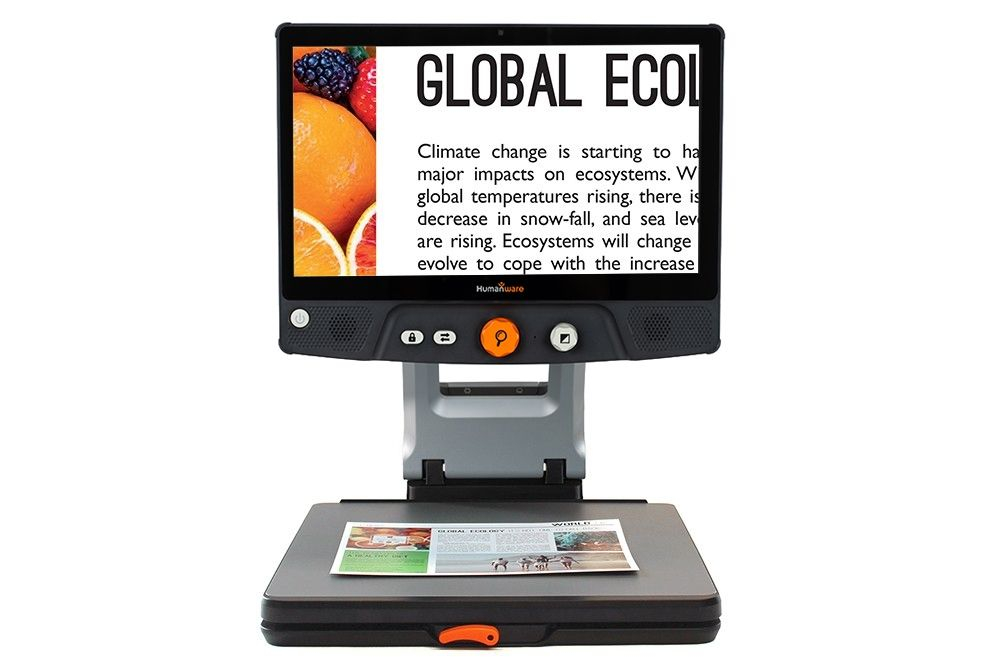 Contactează-ne la
(+40) 729.099.260
Reveal 16i is a distinctive, next generation, low-vision magnifier and personal computer rolled into one. It delivers uncompromised and outstanding image quality with the tools to keep you effective and engaged in all your educational, professional and recreational activities.
In addition to optical character recognition (OCR), with the award-winning Diamond Edge™ font delivering text with amazing clarity, and text-to-speech (TTS), to read aloud, you can enlarge print documents, read books from online libraries, write documents, send emails and navigate the Internet. Switch to the Android interface and you can access Dropbox, Google Classroom, or any other social, news, or entertainment apps you like.
Reveal 16i features an adjustable 16-inch screen and a powerful camera. To view distant objects such as artwork, a whiteboard, or a beautiful outdoor landscape, simply point the camera in the desired direction. Designed for students, professionals and active retirees, the Reveal 16i will keep you engaged in today's fast-paced world and connected to your family and friends.
1x – 10x optical magnification
1x – 45x digital magnification
Adjustable 16-inch touchscreen
XY Viewing Table
Large contrasted control buttons
Polarized LED lights
Document, distance, and front facing cameras
Weight & Dimensions
Folded unit dimensions (w x d x h): 14.96 x 18.3 x 5.9 inch / 380 x 464 x 150mm
Open unit dimensions (w x d x h): 14.96 x 18.6 x 14.57 inch / 380 x 473 x 370mm
Unit weight: 20.06lbs / 9100g
Unit weight w/optional battery: 20.93lbs / 9494g